Ribbon: Half yellow, half red with yellow-red-white edges.

Instituted: 27 June 2002.
Awarded: To Members of the armed forces of the Army of the Republic of Macedonia, the employees of the Interior Ministry and other people for personal courage and self-sacrifice in defense of the territorial integrity and sovereignty of the Republic, or the protection of human lives and other noteworthy services.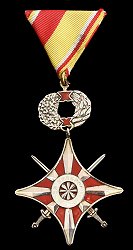 Sorry - no picture of reverse