Ribbon: Crimson with light blue edge stripes and a diagonal dark blue and green stripe.
Instituted: 7 March 1928.
Discontinued: 1944.
Reinstated: 18 October 1992.
Awarded: To members of the uniformed services (military, police, etc.) for acts performed in particularly difficult conditions, showing exceptional courage, risking life or health performed in the course of duty.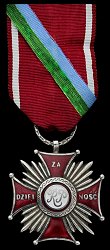 Sorry - no picture of reverse