The Spirit of the Lion: Orders of Belgium
by Antti Ruokonen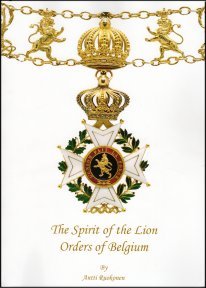 In this, his second book, Ruokonen has turned his meticulous and analytical eye on the Orders of the Kingdom of Belgium. Complete with copious illustrations, this work is a treat to the eye as well as informative.
Starting with an Introduction in which he explains how his fascination with the systematic study of the orders of Europe has grown over the years, Ruokonen soon gets down to business, explaining the hierarchy and timeline of Belgian Orders before giving a brief history of modern Belgium.
Belgium as we know it gained independence from the Kingdom of the Netherlands in 1830, and in accord with normal practice at the time established itself as a constitutional monarchy, inviting Queen Victoria's uncle Leopold of Coburg-Saxe-Gotha to take the throne. Biographies of Leopold and his successor, his son Leopold II, follow; both being 'hands-on' rulers involved in the affairs of their country.
Naturally as a new monarch, Leopold I needed an Order to confer on those who served him and his new nation and the Order of Leopold was instituted soon after in 1832. This order is looked at in detail, with the variations in insignia and organisation tracked comprehensively through Statues and illustrations.
The Order of Leopold I is complex, having no less than three divisions (civil, military and maritime), and being compounded by the fact that since 1921 Belgian recipients (unless members of the armed forces in time of war) have to purchase their own insignia once an award is made - and several manufacturers each have their own interpretation of the design! In 1951, all text was required to be in both French and Flemish, so all the French-only designs changed. Add in the variants for wartime and it gets quite complex. Copious illustrations showing each variation make it all clear, however.
This is followed by similar accounts of the other orders, which were all originally established as orders of the Belgian colony in the Congo by Leopold II, later becoming Belgian even before the Congo gained independence. First up is the Order of the African Star, instituted in 1888, being incorporated into the Belgian honours system in 1908 and with awards ceasing in the 1960s (although it still exists). While less complex than the Order of Leopold, there's still a fair amount of variation to document.
The Royal Order of the Lion (1891-1962, again still in existance even if no longer awarded), and the Order of the Crown (instituted 1897) follow, again with the range of classes and variations being tracked with reference to the Statutes with illustrations of insignia. The Order of the Crown is noteworthy for having Gold and Silver Palms as well as the usual Gold, Silver and Bronze Medals associated with it.
The final Belgian Order is the Order of Leopold II. Instituted in 1900 it is unique amongst Belgian Orders for having a redesign of the insignia in 1908 when transferred from a Congo order to the Belgian honours system, as well as the 1951 redesign to accommodate Flemish text.
Next comes a section on notable recipients of Belgian Orders, with some fine illustrations, including famous Finns and others whose names are instantly recognisable. An interesting feature is award documents, as well as notes on ribbons - war services in particular being denoted by gold stripes and other distinctions borne on the regular ribbon of whichever order was awarded - and minute detail on manufacturer marks and assay marks, excellent for the collector who wants to know precisely what he's got!
The illustrations are truly spectactular, but when you drag yourself away to read the text it is comprehensive and systematic. Overall, it is a fine survey of Belgian Orders and recommended to anyone interested in Belgian honours, European orders - or phaleristics in general.
Get yours here:
Page last updated: 19 October 2014