Lion at the Crossroads: Orders of Luxembourg
by Antti Ruokonen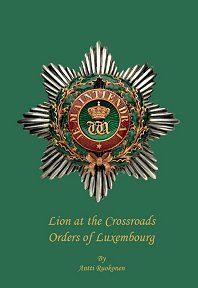 The high standard of research set by Ruokonen in his first two books is maintained here in his third work about the orders of Luxembourg, a nation whose orders have fascinated him for a while, occupying him even whilst he was working on the first two books. In this work he tells the story of a small country with a convoluted past that is reflected in the orders that it awards.
As always, Ruokonen has enjoyed unprecedented official support in his research and in particular supply of images, and this is evident in the Forward, written by a former Commissioner of the Court, Guy May. M. May speaks of the establishment and award of orders in Luxembourg and of how there are less and less opportunities for their display in modern times, although they are still valued by those who receive them. To the general public they seem of less significance.
First comes a brief history of Luxembourg. This highlights how a nation's history and its decorations are inextricably entwined, and puts the history of each of Luxembourg's orders in context... and, of course, makes fascinating reading in its own right especially if you don't know that much about Luxembourg.
This is followed by the biographies of ruling members of the Grand-Ducal House of Luxembourg, a story that begins with the Dukes of Nassau and in particular one Adolph, born in 1817. Adolph became Duke of Nassau but lost his duchy when it was annexed by Prussia in 1866. His retirement from public life was ended when his great-niece succeeded to the throne of the Netherlands, with which at that time the Grand Duchy of Luxembourg was associated. Luxembourg law at that time prohibited female succession and so Adolph was called upon to become Grand Duke, a role he filled successfully until his death in 1905.
Successive Grand Dukes and Duchesses follow, although not all are mentioned in more than passing. One Marie-Adélaïde was Grand Duchess during the First World War and despite the country being occupied maintained friendly relations with the Germans, leading to her own departure in 1919 in favour of her sister Charlotte. When war broke out again, Luxembourg was annexed by Germany in 1942 and Charlotte went into exile in London, from where she was active in maintaining morale until the country was liberated two years later.
And now onto the 'meat' of the book: the Orders themselves. As a constitutional monarchy, the Grand Duke is Grand Master of all the nation's orders although awards are made on recommendation of the political leadership. There are four orders in all, and after some general remarks each is dealt with separately.
The senior order is the Order of the Gold Lion of the House of Nassau, which has a remarkable history being founded in 1858 jointly by the King of the Netherlands (then also Grand Duke of Luxembourg) and the Duke of Nassau. Grand Mastery is shared to this day between the sovereigns of Luxembourg and the Netherlands. Originally it was a single-class order and is such today, although there was a brief flirtation with four then five classes between 1873 and 1892. As one has come to expect with Ruokonen, the insignia is described in great detail with copious beautiful illustrations.
Next is the Order of Civil and Military Merit of Adolph of Nassau, an order with a dazzling complexity of grades which now, perhaps for the first time, I actually understand! It was originally conceived as a Nassau order in 1858 but was resurrected in 1890 when Adolph (who instituted it in the first place) became Grand Duke of Luxembourg. It's named after a historical Adolph, not its founder, and originally had five classes, with a Silver Merit Cross and gold and silver medals being added shortly thereafter. Names changed and new grades were added over the years; currently it has eight classes, two merit crosses and three merit medals; and Civil and Military Divisions. Again the insignia is illustrated in a way that makes everything fall into place.
The Order of the Oak Crown was the first truly Luxembourg order, being instituted in 1841 - thus it is the oldest order although not senior in precedence. It was created so that Luxembourg could have an order of its own, separate from those of the Netherlands. It originally had four classes, this later being extended to five classes and two medals.
Finally a relative newcomer, the Order of Merit of the Grand Duchy of Luxembourg was instituted in 1961 in five classes and a single medal. It was created to meet a need for an order suitable for award on a general scale to meritorious Luxembourg citizens from all walks of life, although several other proposals to meet this need were made before a final decision was made.
Throughout, the book is illustrated with a wealth of examples of each order's insignia, coupled with an unparalleled collection of award documents and even original handwritten statutes for the Order of the Golden Lion of Nassau and Order of Civil and Military Merit of Adolph of Nassau (which were instituted, of course, long before the ease of the word processor!). Notable recipients (including an appendix of notable Finnish citizens) are included, so there are many pictures of the insignia in wear as well as 'scientific' specimens.
Overall, if you like European Orders - indeed orders in general - this is a real treasure to add to your bookshelf!
Get yours here:
Page last updated: 8 December 2013