Decorations and Awards of the US National Guard
by Robin L. Nicholson I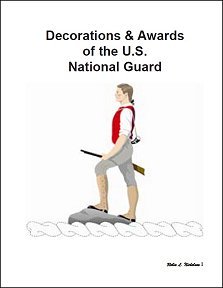 Put simply, this is an amazing and comprehensive survey of the medals awarded to members of the US National Guard born, according to the forword, out of the author's frustration at being unable to find the information he needed to accumulate and understand what has built up to be an extensive collection. It's a true labour of love and should prove invaluable to anyone interested in the subject.
As explanation, the United States National Guard is a reserve component of their armed forces, consisting in the main of part-time soldiers and airmen who have regular day jobs alongside their military duties, although there are some full-time employees as well. They are organised by state, and further divided into National Guard and Air National Guard. (Part-time sailors belong to a different organisation entirely, and are outside the scope of this work.) They operate under a mixture of federal and state control, and can be called to full-time service and even deployed overseas as the need arises, living up to their motto of "Always Ready, Always There".
Working through state by state, the detail is impressive. Within each state's section, current awards are described first. Each award has images of obverse and reversion along with details of the terms of award, the process by which it is actually given and even ribbon attachments. Ribbon-only awards, something frequently neglected, are also included; while variations in design are also covered.
Current awards are followed by obsolete ones (as in, those for which it is unlikely for there to be any serving members authorised to wear them or ones which have been discontinued), marksmanship awards, and a ribbon chart in order of precedence. There are fifty-four such sections in all, the states being joined by the District of Columbia, Guam, the U.S. Virgin Islands and Puerto Rico who each also have National Guard organisations.
The quality of the illustrations in the PDF, whilst ample for identification purposes, leave a bit to be desired. This is a technical issue due to resolution in this version, the print version has far better illustrations.
Appendices cover National Guard patches, State crests (also used to head each state's section), and extensive details of ribbon attachments amongst other things. There are even pictures of medal dies and a sequence showing how the New Hampshire Medal of Honor is made from original die to the finished product. Example prototypes show some of the design thought that goes into these awards. Finally, sections show the rank badges used by National Guard and Air National Guard personnel.
It's an amazingly detailed labour of love, and well worth having if you are interested in American medals or the National Guard.
Click HERE for preview and details of how to obtain a copy.
Return to Medals of the World Index
Page last updated: 4 June 2016