Reference Catalogue Orders, Medals and Decorations of the World, Part 2: Bronze Book (D-G)
by Borna Barac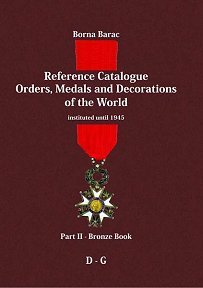 Like the first volume in the series, this is one of the books I keep close to hand when working on the website - it's particularly good for checking those fiddly details about different versions of a particular medal!
This volume covers Denmark, Dominican Republic, Ecuador, Egypt, El Salvador, England (as in the United Kingdom), Estonia, Ethiopia, Finland, France and the German States from Anhalt to Saxony. The German States material is particularly detailed, extremely helpful as you pick your way through them. Just about everything mentioned is also illustrated, very useful if you are not sure what precise version of a given award you are looking at.
The organisation continues the same slightly idiosyncratic style of the first book in the series. First come Medals and Decorations in strict order of their institution, and then Orders in a similar sequence. The England section differs slightly, in that the Medals and Decorations is broken down into Campaign Medals (up to the end of World War 2), Decorations. Long and Meritorious Service Medals, and finally Other Medals and Decorations. British campaign medals often come with clasps indicating participation in individual battles during the campaign for which the medal was awarded, and these are listed - another very useful feature. As many awards have spanned the reigns of several monarchs, the changes in obverse are also tracked.
Similarly for France the catalogue begins with the French Revolution and continues to the end of World War 2, with all the changes in government - and concomitent changes in insignia - that took place. The orders, however, go back to the French Kingdom pre-revolution and again track changes in insignia particularly with the Legion of Honour. Fascinating and useful material if you are trying to get this straight in your own mind.
Another book to keep available, an invaluable reference if your interests include the nations covered in this book.
Get yours here:
Page last updated: 4 December 2016