Reference Catalogue Orders, Medals and Decorations of the World, Part 3: Silver Book (G-P)
by Borna Barac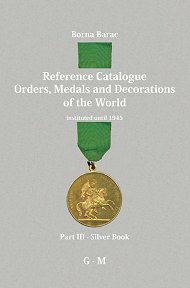 The third volume in the series, and again an essential reference work that is consulted every time I'm working on nations covered therein. These are the rest of Germany: Schleswig-Holstein, Schwarzburg (Rudolstadt and Sondershausen), Thuringen, Thurn und Taxis, Trier, Waldeck, Westphalen, Württemberg, Würzburg, German Reich and the Third Reich; along with Greece, Guatemala, Haiti, Hawaii, Honduras, Hungary, Iceland, India (states of India), Indochina (Annam, Cambodia, French Indochina, Laos) Iran, Iraq, Ireland, Italy (Lombardia, Lucca, Mantova, Naples & Sicily, Modena, Parma, Roma, Sardinia & Kingdom of Italy, Toscana, Venice), Japan, Korea, Latvia, Lebanon, Liberia, Lichtenstein, Lithuania, Luxembourg, Madagascar, Mexico, Monaco, Mongolia, Montenegro, Morocco, Netherlands, Nicaragua, Norway, Panama, Paraguay, and Peru.
It's an impressive array and contains a wealth of material that may be unfamiliar to many. The German States coverage (which began in the previous volume) presents exquisite detail, whilst the Third Reich section includes both the more familiar military material and lesser known civilian awards as well as the array of badges issued to German service personnel, a mix of qualifications and awards and also the 'cuff titles' that mostly marked participation in particular actions. The Hitlerjugend and Red Cross are also included along with an array of long service awards.
Throughout, the same rigorous yet ideosyncratic presentation is continued as in earlier books. First come decorations and medals in strict order of the date of institution, followed by orders in similar sequence. This is logical but can make it a bit difficult if you are interested in the order of precedence. As the survey continues only to the end of the Second World War (with a few exceptions) there are noticeable omissions - such as North and South Korea (both formed in 1948), but the wealth of detail of earlier material compensates well, especially in little-known areas such as the Indian and Italian states.
It is a feast for the eyes, and very informative if you want to know more about orders, decorations and medals in the countries listed. The odd spelling mistake and omission can easily be forgiven as there is just so much to look at. Image quality is good throughout and whether you want to identify something or understand the different versions of a particular award, this is going to be a great asset.
Get yours here:
Page last updated: 23 December 2016