For Prince and Country: Awards and Medals of Liechtenstein
by Antti Ruokonen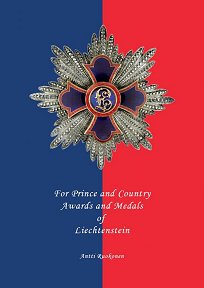 The latest work from Antti Ruokonen looks at the awards of the Principality of Liechtenstein, an area little-documented possibly because they have but a single order and very few awards at all. This paucity of recogniton led Ruokonen to include, for the first time, awards other than orders in his survey of the nation's honours.
Beginning with forewords from various sources, chiefly the author himself and the Liechtenstein National Museum, which comment on the small number of awards and demonstrate the high level of official cooperation that the author has received, the book opens with a brief history of Liechtenstein. A fascinating story it is, beginning as a small patch of land administered by 'absentee landlords' against the wishes of those who lived there but growing in stature due to the talents of Prince Johann I during and immediately after the Napoleonic period, although it was not until he was succeeded by Prince Alois II that the citizens began to be involved in their own governance and it was 1858 before a constitution delimiting the roles of both Prince and citizens was introduced, followed by a more democratic one in 1921 that continues to this day.
Originally Liechtenstein has a small army but this was abolished in 1868, with the country depending on its neighbours for defence. The citizens, however, remained resolutely independent in the face of all trials and tribulations even facing off a far-right coup attempt without bloodshed in 1939 that enabled the nation to remain neutral throughout World War 2. To this day they stand proud and independent.
We then move on to the meat of the book, the handful of awards. These consist of the Princely Order of Merit of Liechtenstein and its associated Medal of Merit, a short-lived military long service award and three medals: the Princely Liechtenstein Jubilee Commemorative Medal, the Commemorative Medal for the 50th Birthday of Prince Franz Josef II, and the Commemorative Medal for the 70th Birthday of Prince Franz Josep II.
The Princely Order of Merit is of recent institution, 1937 to be precise. Its relatively short history is documented and gloriously illustrated - insignia, certificates and award ceremonies all being included. The long service decorations, consisting of ribbon clasps, are also covered, along with notes on the Liechtenstein army.
The three medals are then discussed. The Princely Liechtenstein Jubilee Commemorative Medal was instituted in 1908 by Prince Johann II to mark the 50th anniversary of his reign as Prince. It was initially given to his household staff and to civil servants for long service or particular services during the Jubilee celebrations, but continued to be awarded until the end of his reign in 1929 as a general award of merit, possibly because nothing else was available at that time.
The two 'Birthday' medals of Prince Franz Josef II in 1956 and 1976, and both were awarded to selected local and foreign citizens during the associated festivities, mostly for long service within their occupations. It is interesting to note that Prince Franz Josef II bore the entire cost of both medals out of his own pocket.
Probably shaping up to be the definitive work on Liechtenstein awards, this book is beautifully-illustrated witn informative text and is well worth having if you are interested in Liechtenstein and her awards or like European orders, decorations and medals in general. Another treat for eye and mind alike.
Get yours here:
Page last updated: 30 March 2017