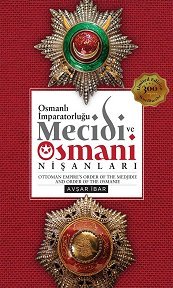 Ottoman Empire's Order of the Medjidie and Order of the Osmanie
by Avşar Ibar
This is a spectacular book, beautiful and detailed, covering two famous orders of the Ottoman Empire: the Order of the Medjidie and the Order of the Osmanie. You've probably all seen images of them on sales sites around the world, but if you thought you knew about them you are in for a surprise! (Well, I was, anyway...)
The foreword explains how this is a true labour of love, over thirty years in the making. As a little boy, Avşar treasured a few medals given him by his collector father, when all his friends hoarded model cars. This early exposure to the sheer delight an enthusiasm for medals can bring led him to eventually open his own shop dealing in both jewellry and medals... it makes a charming tale and reminds of the need to get the younger generation inspired by the things that we love!
The first section deals with the Order of the Medjidie in exquisite detail, beginning with a detailed biography of the 31st Ottoman Sultan, Abdulmecid I, who instituted the order in 1851. Interestingly he was the first Ottoman rule to accept orders from anyone else. The discussion then covers the five grades of the order, along with the jewelled and 'with swords' insignia, everything clearly and beautifully illustrated slong with ancillary information like notes on the different cuts used on the precious stones in insignia set with brilliants. Makers' marks, boxes, and different variations of the insigia are covered in dizzying detail.
The second section gives the same treatment to the Order of the Osmanie, beginning with the history of Abdulaziz who succeeded to the throne in 1861. The following year he instituted the Order of the Osmanie, which has four classes, as an order senior to the Order of the Medjidie. Again jewelled versions and those with swords were awarded as well as the standard insignia; and again these are documented in painstaking detail.
Finally, there is a section on fake specimens of these orders. It is careful to distinguish between those examples made by foreign (usually European) manufacturers for recipients and copies made with the intent to delude purchasers into thinking they have the real thing. There is a lot of useful general information about the sorts of tricks fakers use to make low-cost equivalents of the beauty of the genuine article, and plenty of pictures of fakes to examine, some of which have notes as to why they are fakes.
Throughout, the text is Turkish and English, presented side-by-side in two columns. Alas my Turkish has not got beyond a few tourist phrases, so I had to read the Enlish which is very clear, even if a few quirks reveal that it wasn't written by a native speaker.
This is set fair to be THE book on these two orders, it's difficult to think what one could add to the understanding of the insignia presented here. Award documents, I suppose. Exquisite images, copious details on each and every variation, this will become a definitive work.
Get yours here:
Page last updated: 1 July 2018