Today's Knights: Orders of Romania
by Antti Ruokonen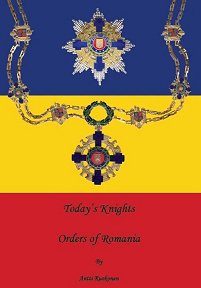 When I read Ruokonen's first book on Romanian Orders, I thought that would be the definitive document on them. Now he has returned to what are possibly his favourite orders and produced another masterpiece!
Beginning with a useful summary of terminology, timelines of the various orders, and other information - including a graphic reminder of scales and how book images are often larger than the actual insignia depicted - there is a chapter-by-chapter discussion of each of the orders awarded in Romania today.
First up is the Order of Michael the Brave, like many tracing its origins to the former Kingdom and reinstated once democracy was restored. However, despite the regulations allowing for peacetime awards as well as those for acts of bravery in wartime, it has not yet been awarded. The last holder of the original order died in 2018, so now there are no living holders. Although the design has been specified, no actual insignia has been seen even if, as seems doubtful, any have been manufactured.
After the fall of Communism, the first order to be reinstated was the National Order of the Star of Romania. It's the highest award during peacetime. The Collar of the Order is used as the Presidential insignia, with a small but noticable change in the suspension. There is a Civil and a Military division, the latter with crossed swords above the badge. In wartime, crossed swords are worn behind the badge and the ribbon has a narrow gold edge: this edging is common practice for all Romanian Orders granted for war merit. Although, mercifully, Romania has not been 'at war', such awards can be made to individuals serving in peacekeeping and other international missions.
Other awards follow in a glorious profusion of detail: history, terms of award, description - and lush illustration (mostly suppied by the Romanian Chancery of Orders - of the insignia, along with numbers awarded and other details.
Possibly the real gem is that a brand new Order, instituted only in July 2020, has made its way in to the list. The Order of Merit for the Promotion of Human Rights and Social Commitment is yet to be awarded and we have to content ourselves with the design sketches from the original documents establishing the Order, but this is an exciting reminder that the study of Orders, Decorations, and Medals is not a static one!
There is also a section of photos of award documents (Ruokonen has sneaked in one of his own here!) and award ceremonies, along with a mass of award data that should satisfy the most avid statistician.
The definitive document on present-day Romanian awards? Perhaps, at least until they decide to establish one or two more! A companion volumne analysing Orders of the Kingdom of Romanian is said to be in the works...
Get yours here:
Page last updated: 4 April 2021