Ribbon: Half blue, half yellow with one gold edge and one blue edge.

Instituted: 5 May 2022.
Awarded: For outstanding personal courage and bravery or outstanding heroic deed during the execution of a combat mission in conditions of danger to life and direct confrontation with the enemy; outstanding achievements in the management of troops during combat operations.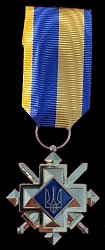 Sorry - no picture of reverse