Ribbon: Yellow with a double red central stripe and blue edges.

Instituted: 21 May 2008 as Distinction for Strengthing of Defence Capabilities
Discontiued: 2012
Reinstated: 9 December 2015 with present name (and same insignia).
Awarded: For personal contribution to strengthening the defense capabilities of the state, or maintaining high combat readiness of troops.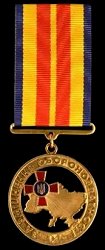 Sorry - no picture of reverse