Ribbon: Yellow with 3 blue stripes.

Instituted: 21 November 2022.
Awarded: To members of the Armed Forces of Ukraine for the successful performance of combat tasks, demonstrated courage and heroism during hostilities against the enemy of Ukraine, in anti-terrorist operations, and in operations to maintain peace and security while serving as part of Ukrainian national contingents.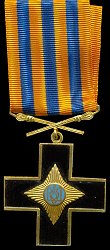 Sorry - no picture of reverse