Ribbon: Blue with horizontally-striped yellow and blue edge stripes.

Instituted: 21 November 2022.
Awarded: To members of the Armed Forces of Ukraine who, in life-threatening conditions, showed exceptional bravery during hostilities against the enemy of Ukraine, in anti-terrorist operations, and in operations to maintain peace and security while serving in the Ukrainian national contingents.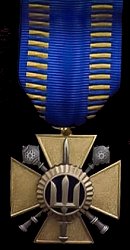 Sorry - no picture of reverse