Ribbon: Yellow with blue central stripe edged with narrow blue stripes, and blue edges.
Instituted: 24 March 1958.
Awarded: To members of the Armed Forces of the United States below the grade of Brigadier General who, while serving in any capacity with the Air Force, distinguish themselves by heroism, outstanding achievement, or by meritorious service.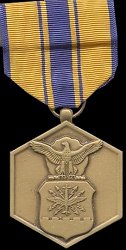 Sorry - no picture of reverse